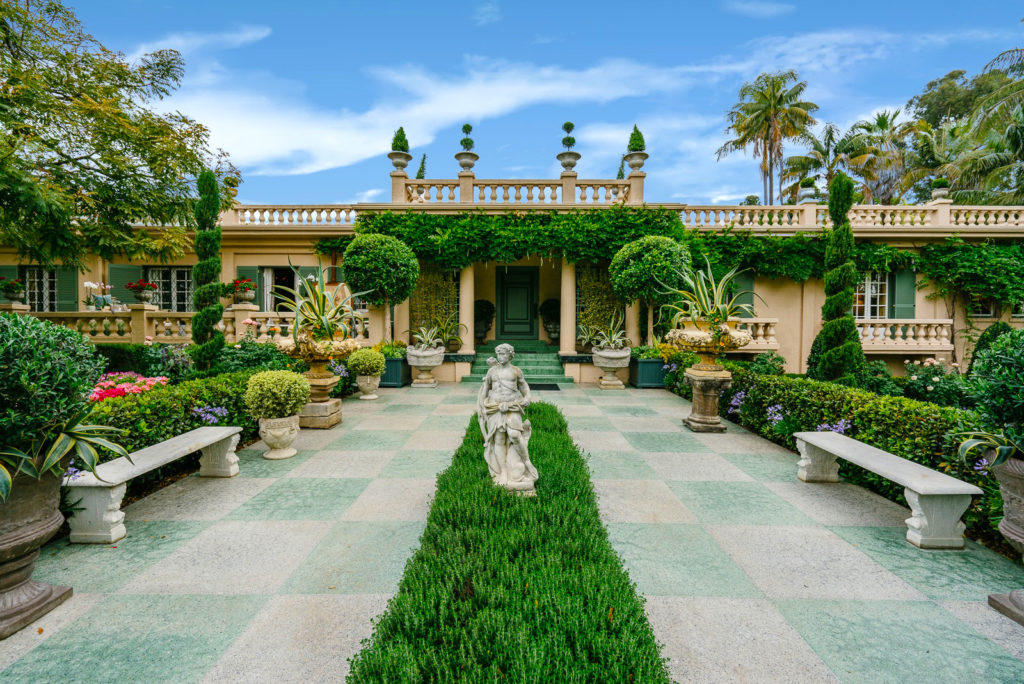 This year's spectacular 30th Annual Garden Tour and Showcase Estate is aptly named, "Here's to You, Mrs. Robinson – The Art of Living."
The Garden Party extravaganza will take place on Saturday, May 19, 2018, from 10 AM to 4 PM. This event is more than a garden party and tour…it is an Experience! The day begins with tours of several enchanting private gardens that will truly inspire any garden-loving enthusiast. After the tour of the private gardens, guests are welcomed back to the Virginia Robinson Gardens Estate for an outstanding and bountiful luncheon prepared by The Kitchen for Exploring Foods.
Guests that purchase the Concierge Admission Tickets will be pampered not only on the luxury van docent-led tour of the private gardens, but they will also enjoy full-service dining at an exclusive sitting area, which will be masterfully decorated by Peter Otero for Silver Birches. Plus, these guests will receive gift bags full of goodies.
Fashion designer TED BAKER plans to pump up the atmosphere with a haute fashion show from his latest collection.
Visitors are encouraged to meander throughout the home of Virginia Robinson where top designers and florists will transform rooms and halls into works of art through floral creations and furnishings that never fail to enthrall guests who experience it. This is a special opportunity not to miss, as the home is open to visitors only once a year for this very uniquely crafted occasion. Additionally, Celebrity Chef Timothy Hollingsworth of Otium will be offering tastings in the kitchen of this precious house museum.
Meet some very special guests at this event: Richard Shapiro, Grand Marshal of this year's 30th Annual Garden Tour will be at the Entrance Hall/Foyer selling and signing his artfully elegant book, Past Perfect: Richard Shapiro Houses and Gardens; Louesa Roebuck will be in the Pantry next to the Kitchen selling and signing her visually stimulating book Foraged Flora: A Year of Gathering and Arranging Wild Plants and Flowers; and Nathan Turner will be selling and signing his refreshing book defining entertaining and cooking California style, I Love California: Live, Eat, and Entertain the West Coast Way outside on the back Terrazzo by the Great Lawn. Irene Edwards, Editor-in-Chief of Sunset Magazine will also be on the Terrazzo for a meet and greet. Make sure to stop by to visit each of these delightful authors and editor!
Guests are also invited to explore the expansive Tennis Court Boutique which encompasses top boutique vendors loved by all. A great place to find those perfect hostess gifts, presents for loved ones, and something special for yourself!
Looking for that ideal Mother's Day gift? What could be better than tickets to the Virginia Robinson Gardens 30th Annual Garden Tour and Showcase Estate? Purchase your tickets now before they sell out! We look forward to seeing you there!
Post by Diane Jenkins
Friends of Robinson Gardens Board Member