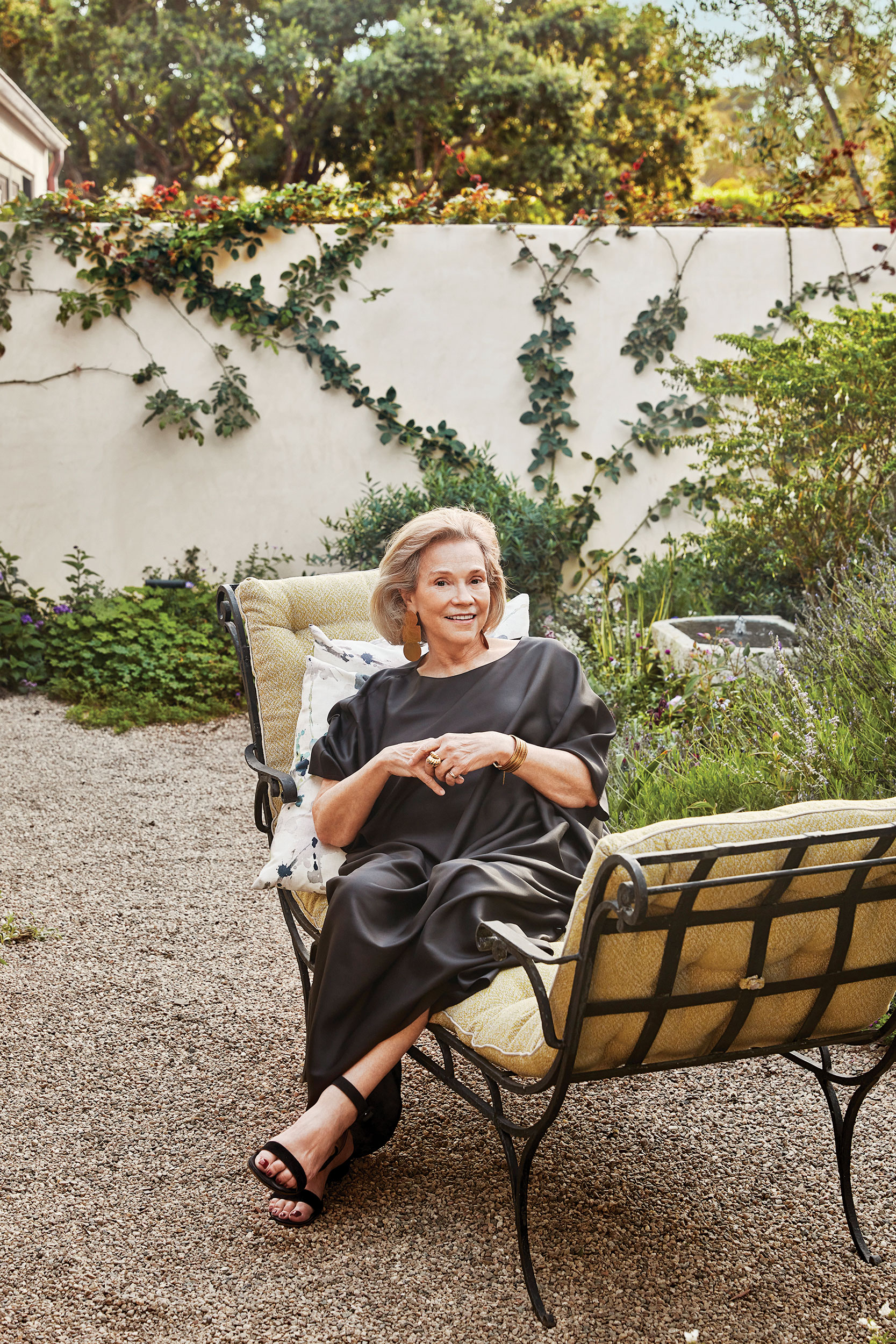 Each month we are highlighting "Our Garden Tour Stars" -- landscape architects, florists, and interior designers who have participated in our annual Garden Tour and Showcase Estate at the Virginia Robinson Gardens. We want to let you know about these very talented designers, their inspirations, and their creations.
This month, we are honored to be featuring internationally renowned interior designer Suzanne Rheinstein. Her work has been published in numerous lifestyle magazines, such as Architectural Digest and Elle Décor, where she has been included on the AD100 and A-List, respectively. Suzanne was included in Elle Décor's debut of its Titans honor roll, which celebrates two dozen exceptionally influential talents. She has written two best-selling books, At Home: A Style for Today with Things from the Past and Rooms for Living. A longtime board member of the Garden Conservancy, Suzanne presented a lecture for the Friends on the Conservancy. She also generously hosted the Fellows for a tour of her beautiful Hancock Park home and garden. Suzanne has designed several rooms at VRG for Garden Tour where she also held a book signing.
We asked her these five questions:
1. How did you decide to become an interior designer?
I grew up in New Orleans, a city rich in architectural styles, such as the neoclassical grandeur of the Cabildo, the charm of the wooden shotgun houses, with their front porches and fancifully painted wood trim, the "wedding cake" manses on St Charles Avenue, and the many 19th and early 20th century houses of no particular style, but somehow fitting all together amongst the oak trees and green gardens. And the interiors of the houses I knew, designed for families and hospitality, were inspirational in their attractive differences.
I was also a mad reader of 19th century fiction and loved learning how Parisian salons looked and Victorian houses and American cottages. And yes, I had a dollhouse to play with and dolls with lives to imagine there!
I grew up in optimistic post-war America, and the mothers stayed home and reveled in their gardens and fixing up the family houses. My mother later had an antiques shop that also offered interior design, and my next-door neighbor was Gerrie Bremmerman, who became the Grande Dame of the New Orleans interior design world and whose style would be synonymous with the "new" New Orleans style — lightness, simple silk curtains, Louis XVI antiques, and mellow gilt accents.
2. Which interior designer(s) (living or not living) have inspired you and why?
So many! I loved the way Nancy Lancaster, of Colefax and Fowler, brought the ideas with which she grew up in Mirador, her grandparents' beautiful old house in Virginia, with the distinguished houses she inhabited in England. There was fine furniture, but relaxed, mixed with comfortable places to sit. I admired the work of Parish-Hadley as I do that of Bunny Williams, a genius at arranging rooms that are comfortable and also have amazing objects and furniture, no matter what the style. Stephen Sills not only does polished city rooms, but also country rooms of American furniture that are chic and welcoming. Peter Dunham's use of handprints and old textiles, vintage furniture, and rattan often inspires the family rooms I design. I could go on!
3. Which historical interior in the world is your favorite and why?
I love visiting house museums and perhaps my favorite is the Villa del Balbianello on Lake Como....right on the tip of a peninsula for a privileged view of the lake; inside, the decorations are those of Guido Monzino, who left it to FAI (equivalent to a national trust)—the public rooms are Euro-chic 70's, with long velvet banquettes and low coffee tables with tops of antique Chinese lacquer screens. The decorations are antiquities the owner brought home from his travels. The library has beautiful French paneling he installed and a collection of Renaissance bronzes, yet the feeling is modern, not fusty. The upstairs is more cozy with an endless collection of 18th century reverse glass paintings of bucolic scenes hung in the bedrooms. It all looks out on a beautifully manicured green garden and the lake. The most visited villa in Italy!
4. Can you please share some photos of your home and/or projects you have worked on?
Hancock Park
New York
Montecito 
Sun Valley
Virginia
5. What is the book that inspires you the most?
Love Is The Way: Holding on to Hope in Troubling Times by Bishop Michael Curry, Presiding Bishop of the Episcopal Church. This book can lead readers to discover the gifts needed in order to live the way of love: deep reservoirs of hope and resilience, simple wisdom, the discipline of nonviolence, and unshakable regard for human dignity.
Contact Information
Suzanne Rheinstein
[email protected]